We Are Your Middlesex County Sealcoating Services Experts
We offer reliable & affordable commercial and residential sealcoating services. Providing the most sought-after Middlesex County sealcoating services.
If you are looking for the most reliable Middlesex County sealcoating contractor, look no further. 508 Sealcoating is the most trusted name for quality and long-lasting sealcoating services in Middlesex County. Sealcoating is, without any doubt, an important part of a comprehensive driveway or parking lot maintenance program. That is why we are here to assist our respected commercial and residential clients with industry-leading sealcoating services in Middlesex County.
Whether you own a parking lot or a driveway in Middlesex County, there is no denying the fact that sealcoating can play a significant role in slowing the rate of deterioration and enhancing the asphalt life cycle. Sealcoating can also help prevent future costs of replacement and repairs. 508 Sealcoating is an affordable and reputable family-owned business servicing Middlesex County, MA. We take pride in doubling the life of your driveway by using the premium-quality eco-friendly sealcoat products available on the market.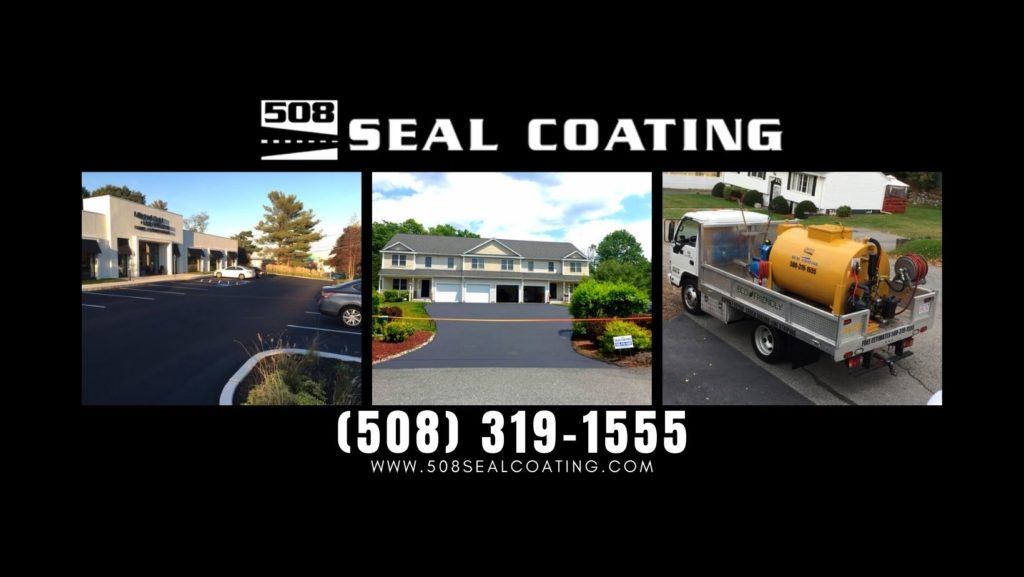 Why Is Sealcoating Important?
You may be wondering why should I sealcoat my driveway or what is the importance of sealcoating a parking lot? Well, one of the major benefits of sealcoating is that it saves money by reducing long-term repair costs. Given the fact that you can restore a faded, dreary parking lot or driveway and make it look almost like new, we ask our clients WHY NOT!
If you are not entirely convinced why you need Middlesex County sealcoating services, here are a few benefits of sealcoating you should know:
Protection Against UV Rays – For an asphalt driveway or parking lot, the natural enemies are sunlight and oxidation. UV rays start to deteriorate the surface and expose the asphalt binder to oxygen, resulting in a brittle surface that cracks over time. Once there are cracks in the surface, trouble starts and it does not take long before more prominent issues begin to appear. Sealcoating fills surface voids, provides robust protection against the UV rays and prevents oxidation.
Protection Against Water and Ice – Once water penetrates the surface of your driveway or parking lot, it causes further damage by softening the base and creating cracks, depressions, and sinkholes. It eventually leads to expensive repairs. In the case of the winter season, water can freeze and expand, causing cracks and potholes. One of the popular benefits of sealcoating is that it resists ice and water by providing a protective shell. In short, sealcoating is the answer to preventing expensive repairs that could have been avoided in the first place.
Protection Against Gasoline and Oil Spills – As your parking lot or driveway is going to be exposed to oil and gas spills, the best way to prevent damage is sealcoating. It is because sealcoating does an exceptional job of filling surface voids and significantly reduces the depth to which gas or oil can penetrate your parking lot or driveway. Think of it as a waterproofing barrier that ensures a minimized amount of water, oil or gas enters the asphalt surface.
Promotes Longevity – Driveways and parking lots have a limited lifespan because they are more prone to continuous damage from vehicles and environmental elements. Sealcoating, when applied by a professional contractor, can help lengthen the lifespan of your driveway or parking lot by 30 to 50 percent. Therefore, if you want to prevent deterioration and extend the lifespan of your driveway or parking lot, sealcoating is the way to go.
Saves Money – As the saying goes, "prevention is better than a cure," you should know that sealcoating costs a lot less versus replacement or repairs of parking lot or driveway. In fact, companies can approximately save over $100,000 in over 15 years with a consistent sealcoating and maintenance program).
How Much Does Sealcoating Cost in Middlesex County?
Unlike many Middlesex County Sealcoating Contractor companies, 508 Sealcoating is an environmentally friendly business that never uses coal tar. We only use eco-friendly products for sealcoating services. As compared to repairs or replacement of driveways and parking lots, the cost of sealcoating looks minimal. Please keep in mind there are a number of factors that affect the sealcoating price:
The type of sealer we're able to use in Middlesex County. 508 Sealcoating uses only premium-quality sealer for long-lasting results.
It depends on how many coats of sealer we apply, as it could be one coat, two coats, or three coats. For residential driveways, we usually use only 1 coat. However, the commercial parking lot can benefit from additional coats.
We have to clean the surface from any dirt, oil, and debris (may require power washing)
Surface size is another crucial factor
Whatever your estimate for sealcoating, it is fair to say that sealcoating is the most inexpensive way to extend the life of your driveway or parking lot. If done consistently, we can confidently say that sealcoating can maintain the appearance of the driveway and parking lot and extend its life for 30% longer than without sealcoating.
Looking For The Most Reliable Sealcoating Services In Middlesex County?
508 Sealcoating specializes in all phases of sealcoating. We have the experts and the equipment to deliver services that will envy your neighbors or competitors. But, most importantly, we have experience of over 20 years working in the field that is our passion.
As a family-run business that has been operating in Middlesex for over two decades, we intend to make long-term clients. We know that the only way to make long-term clients is through offering superior quality services. There are no shortcuts, and our quality work speaks for itself.
If you have any questions related to sealcoating, feel free to contact us anytime. We are more than happy to give you a free consultation. In addition, we offer in-person visits and virtual consolations to our commercial and residential clients in Middlesex County. Most importantly, we take all necessary precautions and follow CDC guidelines. We hope to be your favorite Middlesex County Sealcoating Contractor.