Norfolk County Sealcoating Services
Where we care about the world and use only Eco-Friendly products. Proudly Serving All of Norfolk, MA.
508 Sealcoating is a committed family-run business that has been proudly providing sealcoating and asphalt repair services for over 20 years in Norfolk, Massachusetts. With a passion for delivering high-quality services that surpass industry standards, we take pride in meeting and even exceeding our client's expectations.
Here, our focus is only on customer service and delivering top-quality to our respected clients. We do a professional sealcoating job from start to finish. If you're looking for a reliable sealcoating and parking lot contractor in Norfolk County and its vicinity, 508Sealcoating is the most trusted name to protect, beautify, and preserve your driveway, parking lot, or road.
After serving Norfolk for over two decades, we have become the most trusted name in sealcoating services. Whether you need residential sealcoating, commercial sealcoating, asphalt repair, asphalt/parking lot striping, or pothole repair, 508Sealcoating is a go-to name for the residents of Norfolk.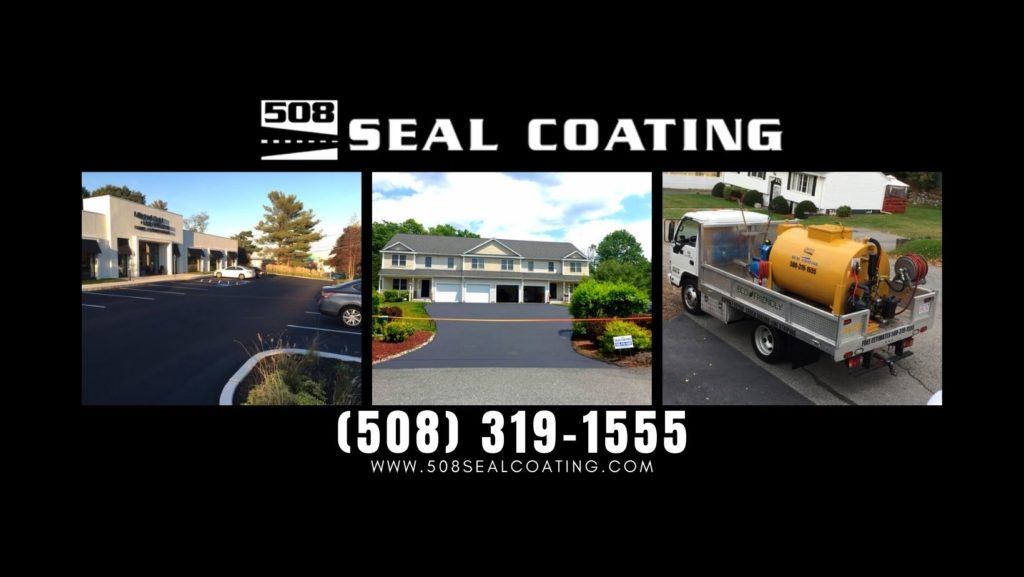 Over 2 DECADES of Experience Delivers Results
In over 20 years, 508Sealcoating has successfully helped hundreds of residential and commercial clients with expert sealcoating services. For many years, we have emphasized the importance of choosing quality and experience because your driveway, private road, or parking lot will remain in use for many, many years. Without an experienced contractor and quality work, your asphalt will not last very long. Let's prevent that replacement expense from happening.
You can either choose an inexperienced company that might offer lowball pricing to save some money off your maintenance, but in the long run it will end up costing you even more. Many clients come to us disappointed from experiences with cheaper contractors. That is why it is important to invest in experience and quality, which only 508Sealcoating can provide in Norfolk County.
Our team of professionals can successfully handle a project of any size, big or small. Therefore, if you have a driveway sealcoating project, parking lot sealcoating, asphalt repair, asphalt patch, or pothole repair, there is no better company than 508Sealcoating. After all, we have built a name for ourselves in 20 years by maintaining unprecedented quality standards that you will not find anywhere else.
#1 Sealcoating Services In Norfolk, MA
If you want to protect your asphalt parking lot or driveway for years to come, our professional-grade eco-friendly sealcoating is the best way to go. Our sealcoating process and high-quality materials provide a protective coating that plays a pivotal role in extending the life of asphalt surface against harsh elements such as weather, gas spills, oil spills, UV rays, and freeze cycles.
With a hard-earned reputation for supreme quality and professionalism, 508Sealcoating remains the leader in sealcoating services for any sized parking lot and driveway project.
When you search for "driveway sealcoating near me" or "parking lot striping near me," you'll find 508 Sealcoating. These are the services we take pride in offering to the residents of Norfolk, MA:
Residential Sealcoating Services in Norfolk County, MA
For your driveway sealcoating needs, we are always available. At 508Sealcoating, our professionals strive to provide the highest quality residential sealcoating services.
As you know, unsealed asphalt surfaces start to deteriorate and break down quickly due to UV rays that leave them brittle and can form hairline cracks. We offer asphalt sealcoating to extend the life of your driveway and help you save a lot of money.
Our residential sealcoating services include:
Driveway sealcoating
Asphalt repair
Asphalt cutout
Pothole repair
Hot rubber crack filling
What we promise to deliver is using state-of-the-art equipment to deliver high-quality eco-friendly sealcoating services that will withstand weather, traffic, oil, and UV damage for many years to come.
Commercial Sealcoating Services in Norfolk County, MA
Did you know that sealcoated pavement can last 30-50% longer than unsealed pavement?
You can protect your valuable parking lot and save thousands by choosing Norfolk's top-rated commercial sealcoating service contractor. 508 Sealcoating, we know how to protect your valuable investment because we have been working in this field for over two decades.
If your business has an asphalt parking lot and you're searching for "asphalt repair near me" or "parking lot striping near me," 508Sealcoating is your trusted experts for all your commercial sealcoating needs.
Asphalt Sealcoating – We know that sunlight, gas, oil, road salts, battery acid, and water can damage asphalt parking lots and cause them to deteriorate over time. Therefore, the best answer to this problem is sealcoating. We will provide a protective layer over your asphalt parking lot to prevent damage and prolong its lifespan.
Parking Lot Striping – If your parking lot markings have faded, it is important to have them redone for the appearance and safety of your parking lot. Worn-out markings are an accident waiting to happen, and it could even end in a lawsuit. What you need is the expertise of 508 Sealcoating. We specialize in brand new parking lot striping with unique layouts, restriping existing marking designs and ADA parking compliance.
Why Sealcoating Matters?
Understand that sealcoating helps ensure your asphalt is protected against all types of damage that include change of the seasons, thawing/freezing cycle of winter, rain erosion, wear and tear over time, UV rays damage, oil, and gasoline.
Crack filling and sealcoating is the answer to proper repairing and preservation of your driveway, pavement, or parking lot. At 508 Sealcoating, we deliver top-quality sealcoating services by using only eco-friendly products (no coal tar).
We Deliver Long-Lasting Results, Guaranteed!
508 Sealcoating, a Norfolk County Sealcoating Contractor has set itself apart from other sealcoating contractors by using the highest quality Eco-Friendly materials. Our proven sealcoating techniques deliver long-lasting results, and we have proven results from our extensive experience and capabilities.
If you are looking for a reliable, affordable, and environmentally friendly Norfolk County Sealcoating Contractor, there is no better option than 508 Sealcoating. Contact us if you have any questions related to driveway sealcoating, parking lot sealcoating, asphalt/parking lot striping, or pothole repair.
Feel free to contact us for a free Norfolk County Sealcoating Contractor estimate today. We cannot wait to start working on your project.