By the end of 2020, the sealcoat market was valued at 1.3 Billion USD. It seems the demand for professional sealcoating services is steadily increasing. With more sealcoating products being manufactured and used throughout the United States, it's great news that there are eco-friendly sealcoating solutions on the market. 508 Sealcoating is proud to use these eco-friendly products and looks forward to a successful project with you. Let's discuss sealcoating and the products we rely on for commercial and residential sealcoating work.
Sealcoating Services in Natick MA and Surrounding Areas
Sealcoating is an extra layer that protects the top of your asphalt parking lot or driveway. It helps prevent damage to the surface due to oxidation and other elements that inevitably occur over time. Without sealcoating, the asphalt surface is unavoidably going to experience wear and tear and deterioration.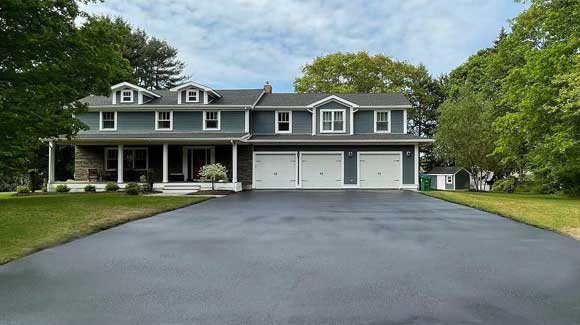 At 508 Sealcoating, we use only eco-friendly products. There is absolutely no use of coal tar at all and we are proud of that fact. Please continue reading to learn why sealcoating is important for your driveway or parking lot and the reasons behind our decision to use eco-friendly products instead of conventional sealants.
Benefits of Sealcoating
Some of the top benefits of asphalt sealcoating include:     
Helps Maintains Color and Appearance of Asphalt Surface
Your driveway or parking lot needs to look clean and welcoming to visitors. Without sealcoating, the surface may look good for a few months or even a couple of years, but then it will start to turn grey and look weathered. A dull-looking residential driveway can affect the curb appeal, and a commercial parking lot with a faded parking lot can leave an unpleasant impression on the visitors. Sealcoating is the most effective way to ensure the surface does not lose its crisp, black color and looks great for years to come. 
Prevents Water, Oil, Gasoline, and Other Liquids Seepage
Hairline cracks are usually an early indication of asphalts aging. As water fills these cracks and freezes, it damages the surface. Larger problematic cracks can only be fixed by utilizing rubberized crack filler but preventing them from getting bigger is the key. This is where sealcoating helps by providing a protective barrier to prevent water from finding its way through to the foundation of the asphalt surface. With consistent sealcoating maintenance, you can ensure the surface lasts longer. Sealcoating also protects against oil and gasoline spills which will keep your space looking clean and welcoming. 
Enhances Surface Flexibility
Asphalt surfaces are slightly flexible. Therefore, asphalt can flex whenever weight from vehicles are applied to it. Without this flexibility, when weight is applied, a more rigid surface would start to break down and deteriorate quicker. Sealcoating asphalt surfaces help them retain this flexibility so they will last longer. Without this protection, flexibility is lost much sooner than with sealing protection.
Prolongs Driveway and Parking Lot Life
A professionally constructed driveway typically lasts for about 20 years and a parking lot, on the other hand, lasts for about 25-30 years. Without sealcoating, there is a strong possibility the parking lot or driveway won't even last you for 10-15 years. Research shows that sealcoating prolongs the life of an asphalt surface by 30 to 50 percent.
Prevents Future Repairing and Replacement Expenses
Parking lots are an expensive investment for any business so it's a great idea to extend the asphalts life for as long as possible. Without proper sealcoating maintenance, you will start noticing small cracks which lead to large cracks and even potholes on the asphalt surface. At this point, you will be forced to spend money on repairing and even replacing the complete asphalt parking lot or driveway.
This cycle of quickly having to replace the asphalt costs a lot of money. Extending the life cycle of your asphalt is the best way to maximize your investment, and sealcoating does just that. Consistent asphalt maintenance with sealcoating is the best solution for you to make a great first impression at your home or business and save on future expenses.
Benefits of Eco-friendly Sealcoating Products
These are the top benefits of Eco-friendly sealcoating products:
Eco-friendly products help a lot in conserving water and energy. The production and application of eco-friendly products may be a bit more expensive, but in the long run, it will become a more reliable option with decreased maintenance costs.
Eco-friendly products used in sealcoating require low maintenance because of their resilience to chemicals and other elements. They offer the same protection, in some cases even more than conventional sealers.
Producing eco-friendly products requires less use of water and can help to promote water conservation efforts. It also gives us hope that future generations would live with an abundance of clean water. 
Improves & Saves The Environment
Eco-friendly products are generally produced using recycling materials when possible and avoid using fossil fuels as well. This helps reduce the human impact on our environment.
Eco-friendly products ensure efficiency by using non-harmful materials without sacrificing quality. That is why 508 Sealcoating has focused on using eco-friendly products because of the many benefits including better quality, performance, and longevity. 
 Why 508Sealcoating Uses Eco-Friendly Products?
For us, there were many reasons not to use coal tar for sealcoating. We decided to use eco-friendly products because they are much safer for humans, animals, and our planet. We believe that it is our responsibility to make this world a safer place by ensuring we use only eco-friendly products. 
508 Sealcoating also wanted to set an example for many sealcoating contractors in the industry who are not using eco-friendly products. As we take your health and the environment seriously, the sealcoating products we use are non-carcinogenic. Another reason to use eco-friendly products is that we care about our sealcoating and asphalt repair professionals. We don't want them to breathe in harmful chemicals that coal tar emits. 
The Bottom Line
Sealcoating is a protective layer that your asphalt driveway or parking lot needs. It helps protect the surface from UV rays, rainwater, oil & gas spills, cracks, and other elements that will inevitably damage the surface. So, if you want to protect your investment, sealcoating is the best way forward. And while you are going to hire a sealcoating contractor in your area, make sure to choose one which uses eco-friendly sealant and not coal tar. While many sealcoating companies still rely on dangerous conventional sealants, 508 Sealcoating has realized that times are changing and utilizing eco-friendly products is the best way to keep our family and yours safe, as well as the environment.
508 Sealcoating is dedicated to using only environmentally-friendly products. Please help us make a difference. If you have any queries related to the products we use or our services, feel free to contact us anytime. Please call us if you need our sealcoating or asphalt repair services for a residential or commercial project. We appreciate the opportunity to work with you.